Make Greeting Cards with Old Photos (and Love!)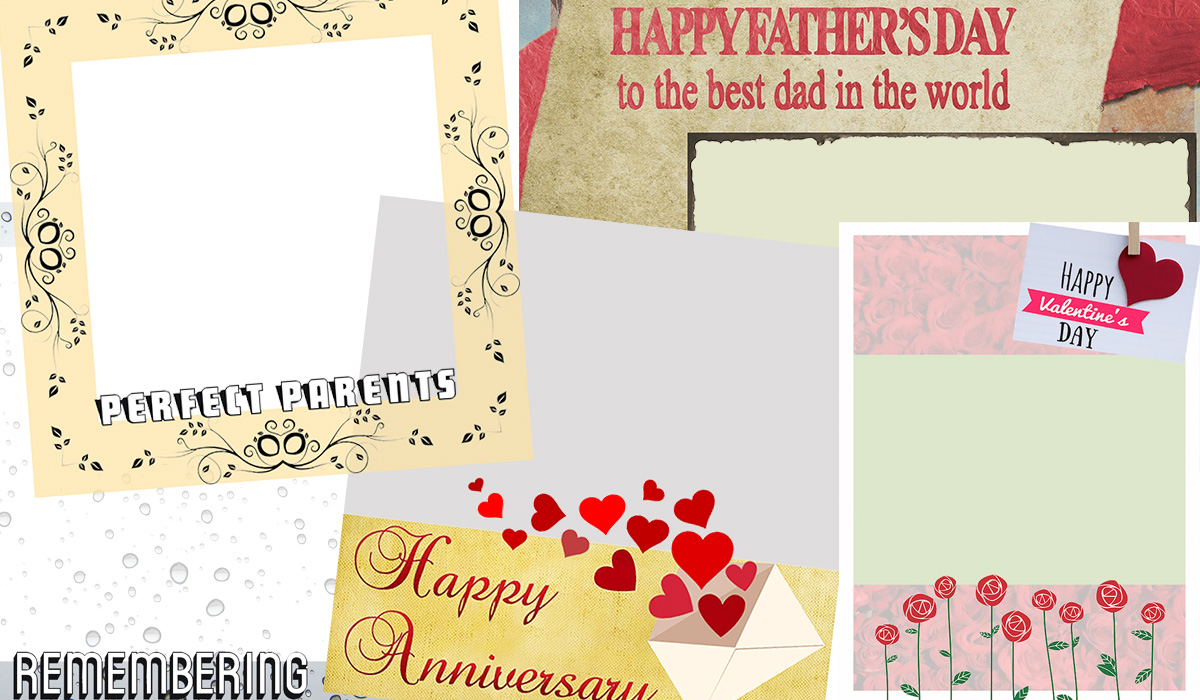 Do you make greeting cards for your loved ones' birthdays and anniversaries, or make do with store-bought ones? Sending a lovingly made, personal creation is a great way to show you care. Mass-produced cards just don't have that magic. There is a lot of insipid, watermarked stuff on the Internet that passes for free e-Greeting cards, but you probably want to avoid that.
You Need a Card. Right Now.
It's 11 am and you suddenly gasp. It is mom's birthday today and you didn't even remember! Until now.

A bit late to shop for and send a gift, but surely not for a card? I'll email one now, and then call her in the afternoon, you think.
So you Google "e-greeting cards" and find a whole bunch of meh. You next look up greeting card apps in the App Store and find some nice ones with plenty of templates that you can customize, but you can't email them. You must pay for the card, the app seller will then print and mail the card, and it'll be delivered in 2-8 days.
What to do?
Make A Birthday Card!
There are a lot of tutorials for making the perfect handmade greeting card (We like this one), but do you have the time to run down to the DIY or crafts shop? And the card will still need to be mailed.
Well, here's an idea. Skim through your iPhone or computer's photo library, and find a few flattering pictures of mom. Use an image editor to add a border, frame or other decorative elements, add a nice message, and email or MMS it.
Is There An Easier Way?
Sure is. If you have an iPhone or iPad, download Pic Scanner Gold. This app is actually meant for scanning old photos from albums, but you can do lots more with it. Like instantly making photos into beautiful greeting cards. Here's how:
Flip through old family photos, and scan a few good ones with the app (or simply import some from your Photos app library). Now, on Pic Scanner Gold's Home screen, tap Goodies > Greeting cards. You will find lots of categories, such as Anniversary, Birthday, Anytime, Nostalgia, For Elders, and so on. Each category offers several design templates. Plug the pics into the coolest template you find, and your card is ready! Just add some love (i.e. a sweet personal message), and hit Send. Before you can say 'Many Happy Returns', your creation will be in her email inbox or Messages – or on her Facebook page. Problem solved, elegantly! Bet she will love and cherish this straight-from-the-heart, personal birthday wish.
You can also tweak the colors in every greeting card design, so you actually have thousands of options. More than 200 designs for all occasions are included in the app's purchase price.
Pic Scanner Gold is currently available only for iOS, i.e. iPhone and iPad devices running iOS 11 or higher. Find out more about it here, or download the app here. There is a 90-day money-back assurance, so go ahead and try it right now.

What Else Does The App Do?
Pic Scanner Gold lets you scan paper photos and albums in high resolution. Scanning preserves photos forever, and also makes them instantly shareable.
The app includes a powerful editing toolkit that lets you make all kinds of enhancements and add effects to scanned or imported photos. It lets you create albums and slideshows, and add captions to photos.And make greeting cards.

Once your photos are scanned and edited, you can do more with the free Goodies that come bundled with the app. You can read more on Pic Scanner Gold's website.
How Many Scans, Albums, Cards?

Pic Scanner Gold offers unlimited use of all features, including scanning, albums, slideshows and cards. It includes more than two hundred greeting card designs. Two hundred! Come to think of it, a single Hallmark card typically costs as much as this app!