How to scan photos: Photo scanner apps for iOS
Scanning photos: A tedious chore?
Cleaning out the basement, you found a long-lost box of family photos – and now everyone wants copies? Or you have a pile of shoe boxes and picture albums filled with photos spanning many generations? Or you need to make a slideshow for a wedding or funeral, but all you have are fading prints pasted in old-fashioned picture albums? Photo scanner apps can save the day.
How many printed photos do you have lying about? Hundreds? Thousands? Don't you wish you had them in digital form, in your iPhone or iPad? Shareable, portable, safely backed up in "the cloud", protected from the elements – but you haven't gotten down to doing it, because the conventional methods are either too tedious, or too expensive.
Your everyday camera is also your scanner.

Chances are that your iPhone (or iPad) has become your default camera, and the sophisticated, expensive but unwieldy digital camera you had bought a few years ago, and all its fancy attachments, are gathering dust. Not without a reason. Current iPhone and iPad models have 12 megapixel cameras. They are great for photography. And scanning.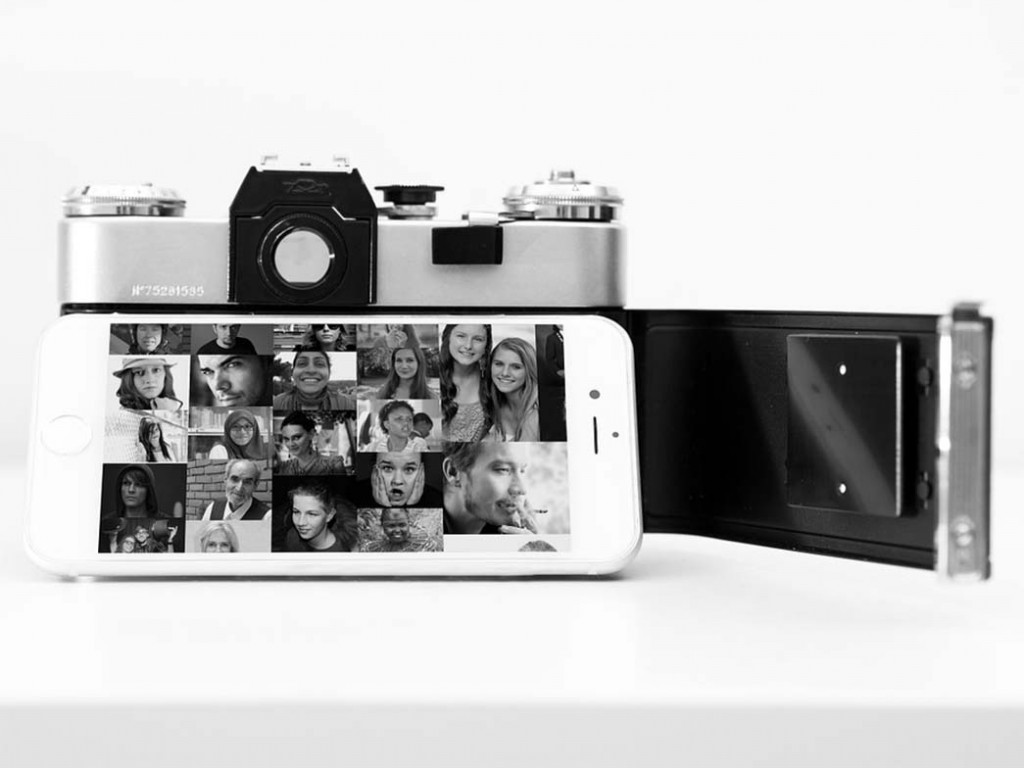 Smartphones and tablets have already become our go-to document scanners. Such scanner apps have been around a while, and are great for scanning expense receipts, business cards and handwritten notes. Photo scanner apps, however, are a bit different.
Document scanners apps detect page edges, scan multi-page documents as one file, and save PDF images. Their editing features are made for documents. Photo scanner apps are optimized for photos. They capture high resolution scans, true colors, and save images as JPG files. They have photo editing tools (e.g. exposure, saturation, contrast, sharpening, filters, frames etc.) and photo organizing tools (e.g. albums, captions, text overlays etc.)
Could you scan photos with a document scanner app? Hmm. Would you eat pizza with a spoon? You need document and photo scanner apps on your iPhone and iPad.
Photo scanner apps for iPhone and iPad
There are a handful of photo scanner apps for iOS, Android and other mobile devices. The key comparison points are features, ease of use and price. We will only look at iOS apps.
All apps use the same iOS camera, but scan quality can differ. All apps automatically crop your scans, but cropping accuracy can vary. Some apps can scan and auto-crop multiple photos or an album page (This is faster than scanning one at a time). As for ease of use, do try out 2-3 apps. With prices ranging between free and a just few dollars, you'll be glad you made this investment in money and time.
Also know that there is nothing like a free app. Check whether the app saves the scans on your device or on their server; if latter, what privacy settings are there and are you happy with them? Can you save your scans in your device, computer or a free cloud service, and share them freely, or are they locked to the app in an expensive subscription service? Are there any hidden or recurring fees? See which features does the initial purchase price, and which require in-app purchases.
Two good photo scanner apps for iOS users
"Two good" or "too good"? You read and decide 😊
This was the world's first app for scanning and auto-cropping multiple photos, the Real McCoy. As BBC's personal tech program Click found back in 2013, Pic Scanner is "packed with great tools…that should save you a lot of time". The app has come a long way since then. It has gained a beautiful, minimalist design and many other features.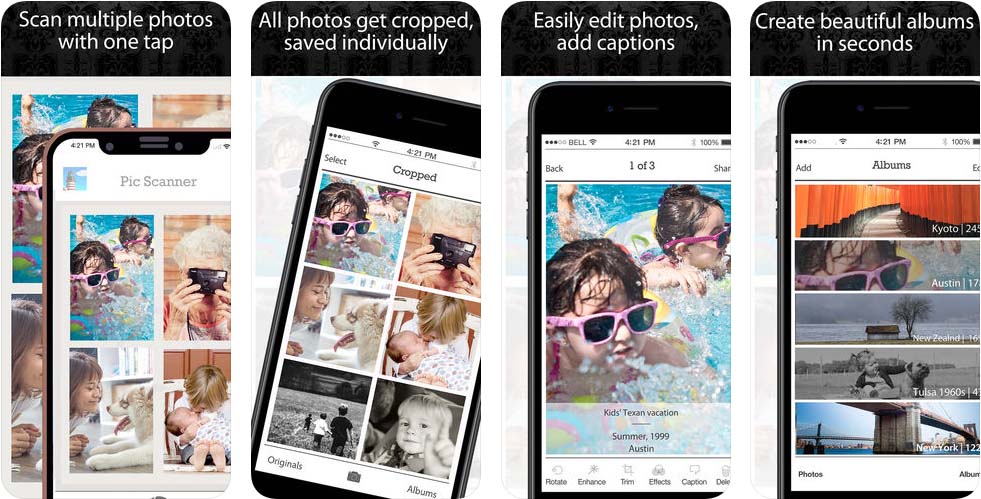 For $3 more, this is a cutting-edge, feature-rich app. It does all that Pic Scanner can: Scan multiple photos; intelligently detect, automatically crop and enhance, and save them individually. It lets you add captions and create albums. Plus, you get higher resolution scans, a multi-tool image editor, the ability to convert photos into beautiful greeting cards, shareable albums, retro-themed slideshows, many more export options, and other nifty features. Pic Scanner Gold costs $4.99 for unlimited use.
Like having a personal photo vault
The unique thing about both these photo scanner apps is that your photos remain only yours. All processing and saving occurs on your iPhone or iPad, and you don't upload photos on someone's server – so privacy is assured. You can either keep scanned photos within these apps, or freely export them to any location of your choosing.
The ability to bulk transfer photos to computer and free cloud services is important. It lets you back up your work and free up your iPhone/iPad's storage. You also don't have to sign up for an expensive cloud subscription service.
Both apps come with prompt customer service. They are intuitive enough to use, include in-app Guides ( Here is a more detailed troubleshooting FAQ), and email support is prompt when needed.
Scan photos any time, anywhere
Since these photo scanner apps scan, crop and save photos directly on your device – and not on a remote server – you can scan without using Internet. So if you find yourself visiting a relative who has a treasure trove of old family photos but no scanner or internet, you can still scan. Bringing the past into the present, literally in a snap! 😜
OK, any catches or small print?

Not really. You can download Pic Scanner here or Pic Scanner Gold here. The one-time price ($1.99 for Pic Scanner, $4.99 for Gold) covers unlimited scanning, exports and use of most features. There are a couple of extra features that can be unlocked with nominal in-app purchases,but those are optional. No hidden charges, no recurring costs.
Since these apps store all your scans, albums, captions etc. on-device, it's a good idea to periodically back up your work in iCloud, Dropbox or your computer. This would keep your photos safe if your device is broken or lost.
Make time. Get it done. And tell others.
Old photographs and albums are irreplaceable records of our lives' key events. Time and again, when people in natural disaster areas are asked what's one possession they would save while evacuating, they say: "family photos". Yet, we take these precious treasures for granted: we procrastinate when it comes to saving and archiving them. Photo scanner apps make scanning and archiving such a breeze that there really is no excuse anymore.
Go on, start now and rediscover people, places and events from your past. Going through long forgotten photos can be a such therapeutic, nostalgia-filled trip down the rabbit hole of memories. A true labor of love!
(If you know someone who is sitting on a pile of old photos, show some love and forward this article to them.)